A wedding reception is not complete without a quality DJ and killer playlist. Hiring a DJ requires a lot more than just a simple phone call, though. Prepare a DJ checklist filled with all your requests ahead of time. Follow our example checklist below!
Type Of Music
The DJ can truly set the mood of the reception with a perfectly selected group of songs. If you want a playlist filled with country music or classic rock, the DJ can take care of your every request. You must also consider the group of people that are attending the wedding. Do you want to please everyone, from childhood friends to grandparents? Consider a variety of music types by scrolling through your DJ's extensive list of songs. Choose a variety of songs to ensure everyone has an enjoyable experience.
Bride And Groom Introduction Song
Make sure you have your timing down when it comes to the DJ synching up with the entrance of the bride and groom. The DJ should know exactly how you want to be introduced, what song to play and at what volume. Let the DJ know how to pronounce your names, as well. It is important to always keep in mind the DJ is in charge of far more than just the music.
The "Do Not Play" Playlist
It is common practice to give the DJ a list of songs in advance to refrain from playing. The "do not play" playlist is completely up to you, of course. So whether you wish to keep the songs clean and family friendly or simply just hate hearing a few songs, make sure you submit a list of these tunes to the DJ. You could also tell the DJ to use the censored versions of each song played, if possible.
Emceeing Preferences
As mentioned above, the DJ will double as your party emcee. This certainly helps to save money when the DJ is willing to play both roles at the reception. When this is the case, make sure to clearly outline your preferences. Let the DJ know what words or directions should be used and avoided. Perhaps the bride/groom doesn't want to be the center of attention during the reception or there is an awkward family feud of sorts. Make the DJ aware of all that applies.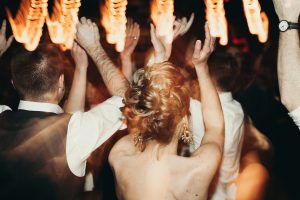 Checklist For Wedding DJ
Here is an example of a checklist to provide for your wedding DJ:
Order of entrances – bride and groom, wedding party, etc.
Proper pronunciation of names.
List of songs to play during cocktail hour.
Newlyweds introduction music and announcement.
First dance song.
Songs for after and between toasts.
Must-play songs during dinner.
The "no play" playlist.
Father-daughter dance song.
Mother-son dance song.
Bouquet and garter toss.
Must-play songs for dancing.
List of song requests.
Special event songs.
Checklist of acceptable music genres.
Couple's preferences for music and announcements. 
Final song of the evening. 
Wedding DJ Mesa, Arizona by All Pro DJs
All Pro DJ's offers DJ services in Mesa, Arizona and surrounding areas. Contact All Pro DJs for all your wedding and corporate events. Call us at 602-292-2870 for more information. We also offer photo booths to keep those event memories forever.