Cost Of Wedding Band Vs DJ
If you want the dance floor to be the center of your wedding reception, then you have an important decision to make. Should you hire a band or DJ for your wedding? For couples focusing on a tight budget, here's a look at the typical costs of both services.
How Much Does A Wedding Band Cost?
On average, a professional live wedding band hired for a three-hour performance will cost $4,000. Typically, most bands will expect a 10% tip on top of the base charge. Prices for live bands can vary based on several different factors.
Time Of Year
Of course, rates will certainly lower during the off-season for wedding bands. Prices will begin to increase again starting around July. Bands will be booked for more gigs and have less availability.
Day Of The Week
Weekdays are the least expensive for any live band. Saturday is usually the most expensive day of the week to book a band.
Location
Large metropolitan areas will generally have higher rates for bands. For example, a wedding band in Seattle will typically charge more than a band booked for a wedding in Portland.
Number Of Band Members
Some wedding parties may wish to add a horn section. This can hike up the bill considerably. Additional sound gear, lighting or even video screens can add to the scene, and the overall bill, as well.
How Much Does A Wedding DJ Cost?
The average cost for a wedding DJ ranges from $600 to $3,000, with a national average of $1,200, according to TheKnot.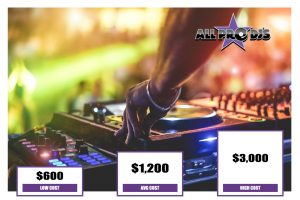 Budget-Friendly DJ
Whereas this might be okay when you're buying toilet paper, it probably won't be the best idea for something as important to your wedding as the DJ you hire. In the end, so much of your wedding day is going to center around music, additionally, a wedding DJ is more than simply a DJ.
By all means, if your professional DJ friend is just charging you $550 as a favor, that's something else. However, wedding DJs in these price ranges are usually just starting out in the industry. They're most likely doing this part-time as a side hustle and might have scheduling conflicts leading them to not showing up.
Average Cost: $500-700
Professional Full-Time DJ
Professional, full-time DJs that have a wide range of services are making this amount of money for a reason.
They have talent, experience, and are 100% devoted to making sure the weddings they DJ at are as close to flawlessness as they can. They usually spend 10-30 hours preparing for a 5-hour wedding…THAT'S devotion! They're available for your questions, have a multitude of song suggestions, and can MC like they were born to do it.
They are also going to be fully licensed and carries the kind of insurance that a lot of venues require.
Average Cost: $1,300-$3,000
Should I Hire A Band Or DJ For My Wedding?
Of course, this decision is up to you and your partner. If picking between a band and DJ is becoming difficult, the suggestion is to consider what kinds of songs you'd like to hear at the ceremony. If you need a specific song with Adele's voice on it, then hiring a DJ is the way to go. But if the sound of live instruments is coveted, a band will work best.
A band will usually cost more, so if budgeting is important to you, the suggestion is to opt for a DJ. The benefits of hiring a DJ are endless. The cost will be lower, plus there is no limit to what songs they can play. This is great for a wedding that encourages requests from everyone in the party.
Wedding DJ Mesa, Arizona by All Pro DJs
All Pro DJ's offers DJ services in Mesa, Arizona and surrounding areas. Contact All Pro DJs for all your wedding and corporate events. Call us at 602-292-2870 for more information. We also offer photo booths to keep those event memories forever.