If you are searching for the best songs for a wedding video, this list is for you!
Best Wedding Video Songs
Whether you are looking for a classic staple or a modern hit, we're here to list 50 of the best wedding video songs.
1. "Marry You" – Bruno Mars
There simply isn't a more appropriately named song for a wedding video. Released in 2011, this song has spent a decade as a wedding favorite. "Marry You" combines elements of pop and soul to create the perfect combination for any couple searching for the right song for their video. This tune has also worked very well as a first dance or newlywed introduction song.
Best wedding lyrics: "It's a beautiful night / We're looking for something dumb to do / Hey baby, I think I wanna marry you."
2. "Making Memories Of Us" – Keith Urban
3. "(Everything I Do) I Do It For You" – Bryan Adams
4. "Better Together" – Jack Johnson
5. "Only Love" – Ben Howard
6. "Don't Stop Believin" – Journey
7. "Always Remember Us This Way" – Lady Gaga
8. "Unchained Melody" – The Righteous Brothers
9. "All Of Me" – John Legend
10. "We Found Love" – Rihanna and Calvin Harris
Are you looking for a song that can light up the dance floor as well as your wedding video? Well, "We Found Love" may be your best bet! Known as one of the most popular dance/pop songs of the past decade, this tune continues to make its way to weddings across the world. The fun never stops with this fast-paced favorite.
Best wedding lyrics: "Now we're standing side by side / As your shadow crosses mine / What it takes to come alive."
11. "XO" – John Mayer
12. "I Do" – Colbie Caillat
13. "Ho Hey" – The Lumineers
14. "Marry Me" – Train
15. "Kiss Of Life" – Sade
16. "Time After Time" – Iron & Wine
17. "Love On Top" – Beyonce
18. "1999" – Prince
19. "First Day Of My Life" – Bright Eyes
20. "Only Wanna Be With You" – Hootie & The Blowfish
Looking for a classic that works for every generation of tastes? "Only Wanna Be With You" is still one of the most popular wedding songs today. Blending fun lyrics with country stylings, this song was originally released in 1995 and quickly snuck inside the U.S. Billboard top ten.
Best wedding lyrics: "I only wanna be with you / You can call me your fool / I only wanna be with you."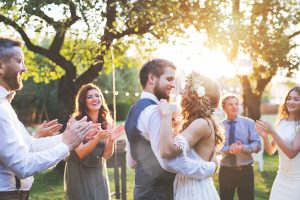 21. "In My Life" – The Beatles
22. "Teenage Dream" – Katy Perry
23. "All Night Long" – Lionel Richie
24. "Can't Help Falling In Love" – Elvis Presley
25. "Holiday" – Madonna
26. "Beautiful Day" – U2
27. "Love Never Fails" – Brandon Heath
28. "In Your Eyes" – Peter Gabriel
29. "Happy Together" – The Turtles 
30. "Wonderwall" – Oasis
Incredibly popular to this day, "Wonderwall" has transitioned seamlessly into the world of marriage. The song's heartfelt lyrics and raw guitar sound help to make this an emotional roller coaster ride.
Best wedding lyrics: "You're gonna be the one that saves me / And after all / You're my wonderwall."
31. "I Gotta Feeling" – Black Eyed Peas
32. "Everything" – Michael Buble
33. "Only Time" – Enya
34. "I Choose You" – Sara Bareilles
35. "Collide" – Howie Day
36. "How Sweet It Is (To Be Loved By You)" – James Taylor
37. "Loving You Is Easy" – Sarah McLachlan
38. "When A Man Loves A Woman" – Percy Sledge
39. "Amazed" – Lonestar
40. "I Melt With You" – Modern English
Chances are this is the only Modern English song you've ever heard. This band rose to fame with 1982's release of "I Melt With You." A dreamy and futuristic sound is simply soft and sweet after all.
Best wedding lyrics: "I'll stop the world and melt with you / You've seen the difference and it's getting better all the time / There's nothing you and I won't do."
41. "You're Still The One" – Shania Twain
42. "We Belong Together" – Mariah Carey
43. "I'm Yours" – Jason Mraz
44. "You're The Inspiration" – Chicago
45. "Baby I Love Your Way" – Peter Frampton
46. "Perfect" – Ed Sheeran
47. "I Don't Want To Miss A Thing" – Aerosmith
48. "Wonderful Tonight" – Eric Clapton
49. "Power Of Love" – Jennifer Rush
50. "Iris" – Goo Goo Dolls
"Iris" turned the Goo Goo Dolls into a household name in the late 1990s. This song definitely tugs at the emotional heartstrings and can be used to make an unforgettable impact in your wedding video.
Best wedding lyrics: "You're the closest to heaven that I'll ever be / And I don't want to go home right now."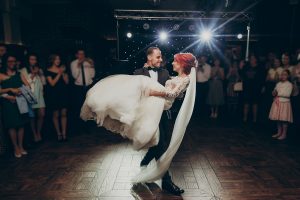 Wedding DJ Mesa, Arizona by All Pro DJs
All Pro DJ's offers DJ services in Mesa, Arizona and surrounding areas. Contact All Pro DJs for all your wedding and corporate events. Call us at 602-292-2870 for more information. We also offer photo boths to keep those event memories forever.