On average, a wedding photo booth rental costs $650, with a range of $425-$1,000. However, there are a few outliers when it comes to renting a photo booth, according to WeddingWire.
How Much Do Wedding Photo Booths Cost?
Of course, there are many different items you'll want to add on as part of your wedding festivities. Typically, a photo booth tends to be one of the most popular items. Photo booths provide a fun non-dancing activity for guests looking to leave the dinner table to socialize. $650 is the average cost of a photo booth for a three-hour wedding.
The outliers, as mentioned above, can be cheap or costly, depending on the location and amount of time. The lowest possible rental range is around $140 for a photo booth. For longer weddings, there have been instances where a rental can cost upwards of $2,000. Most couples, though, will spend between $425-$1,000 for a photo booth.
Lowest Cost: $425
Average Cost: $650
Highest Cost: $1,000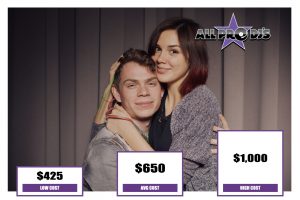 What Is Included With A Photo Booth?
When you rent a photo booth, the total cost will include a few extra things. Most rentals will include a photo booth attendant at no extra charge. The attendant is present to help with the operation of the booth and make your experience as memorable as possible. Nobody renting the photo booth is expected to take care of the setup and breakdown. A reputable vendor will take care of these processes for you at no extra charge, as well.
It is possible that there will be some accessories available for you for an additional charge. The photo booth rental company may offer the following extra items for purchase:
Custom Backdrops: $150-$300
Prints: $30-$50
Flip Books: $75
Props: $50
Social Media Integration: $100-$250
And More!
*All prices according to Thumbtack.
Types Of Photo Booths
Not all wedding photo booths need to be the same! That's why rental companies offer plenty of options to make your big day stand out from the rest. There are many different photo booth options, including the following:
Flip Book Photo Booth
Open-Air Photo Booth
Old-School Photo Booth
Slow-Motion Video Booth
GIF-Maker Photo Booth
Green Screen Photo Booth
360-Degree Photo Booth
All of these booths will allow you to customize your experience, making the big day even more memorable!
Wedding Photo Booth Rental Tips
Talk to your rental company ahead of time to figure out exactly how long they'll need to set up and tear down the booth. You'll want to make sure they have enough time to set the booth up and make sure everything is working properly. Another tip is to scout the location before the wedding to pick the best spot possible for the booth. Try to station the booth just outside of the main event space, ensuring it is close to a power source at the same time.
The photo booth should be ready to go by the cocktail hour. Keep it open throughout the reception, but it's okay to close it down while important moments like the first dance are ongoing. Always ask the rental company ahead of time if an attendant will be present during the wedding. Some booths are self-sufficient without the need of any extra hands.
How To Rent A Wedding Photo Booth
There are a variety of ways to rent a photo booth for your wedding. Some companies may exist solely for rentals, while larger event companies and DJs can offer rentals, as well. Photo booths are a great addition to any wedding or event because they offer a non-dancing activity and provide a take-home favor simultaneously.
For more information contact All Pro DJs right here!
Wedding DJ Mesa, Arizona by All Pro DJs
All Pro DJ's offers DJ services in Mesa, Arizona and surrounding areas. Contact All Pro DJs for all your wedding and corporate events. Call us at 602-292-2870 for more information. We also offer photo booths to keep those event memories forever.