Wedding party members and guests alike usually agree that the reception is the best part of any wedding. Putting together a great playlist will only take your big day to the next level! If you are searching for "how to make a wedding playlist", follow our guide below.
Ways To Create A Wedding Playlist
Of course, you can always ask for input or advice from a wedding DJ if you plan on creating a full playlist. Yet, if you choose to tackle this process yourselves ahead of time, follow these steps to putting together a great list of songs.
Couple Comes Up With A List Of Songs
This may sound obvious, but with all the wedding planning tasks involved with the big day, this part is easy to overlook. Coming up with some favorite songs together is considered the most traditional way of compiling a playlist.
Of course, this day is about BOTH of you, so come up with a list of songs that reflect the tastes of the bride and groom. Brainstorm which songs you'd like to play during your entrances, mother/father dances and exit. Come up with a final list and show it to a loved one for another opinion.
Ask Guests For Requests
There are many ways to take music requests from your future guests. You can include this as part of the wedding invitation, post a wedding blog or even take to Pinterest. It's always a good idea to reach out to your guests to see which songs they'd like to hear ahead of time.
Plan ahead by adding a song request line or two on the RSVP's you send out. Some couples may leave it up to guests to fill out requests at the DJ booth or dinner tables, but this won't give you any time to approve the music during your ceremony.
Create A Collaborative Playlist
Since we are deep in the age of technology, it's only right to take advantage of that. Music platforms, such as Spotify and Pandora, offer you the opportunity to create collaborative playlists with friends and family. Involve as many people as you'd like to see just how many of your guests will offer input.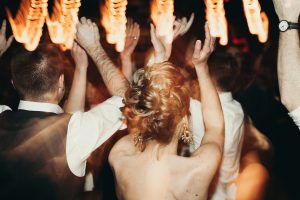 Wedding Playlist Tips
Here are 5 tips to help you create the best playlist possible for yourselves and your guests.
Play Plenty Of Music
Try to aim for 3-5 hours worth of music, unless you know your reception will be brief. Adding a few songs just in case the cocktail hour or processional goes long is always a smart idea.
Mix Genres
Remember, you may have seniors and/or children at the ceremony. Make sure to mix plenty of genres within the playlist. Frank Sinatra followed by Post Malone, for example, is a surefire way to account for all musical tastes. Mixing classic love songs with modern dance hits will please any crowd.
Listen To The Entire Playlist Ahead Of Time
You might not want to do this at one time since it will last for hours, yet listening the entire way through ahead of time is a necessity. Ensure that there are no awkward gaps, weird transitions or moments of silence.
Play 1 Slow Song For Every 5 Fast Songs
Create a unique flow/tempo to the event by ordering songs appropriately. One fast hit after another may lead to a quicker burnout. Change things up every after few songs, setting the mood along the way.
Personalize The Music Selections
Always stay true to your musical tastes. Don't simply slide in a song you dislike just because it's popular at weddings. Showcase your personalities as a couple by choosing songs that reflect who you are.
Best Wedding Playlist Songs
Here are 30 ideal songs to add to your wedding playlist:
"In My Life" – The Beatles
"Teenage Dream" – Katy Perry
"All Night Long" – Lionel Richie
"Can't Help Falling In Love" – Elvis Presley
"Holiday" – Madonna
"Beautiful Day" – U2
"Love Never Fails" – Brandon Heath
"In Your Eyes" – Peter Gabriel
"Happy Together" – The Turtles 
"Wonderwall" – Oasis
"I Gotta Feeling" – Black Eyed Peas
"Everything" – Michael Buble
"Only Time" – Enya
"I Choose You" – Sara Bareilles
"Collide" – Howie Day
"How Sweet It Is (To Be Loved By You)" – James Taylor
"Loving You Is Easy" – Sarah McLachlan
"When A Man Loves A Woman" – Percy Sledge
"Amazed" – Lonestar
"I Melt With You" – Modern English
"You're Still The One" – Shania Twain
"We Belong Together" – Mariah Carey
"I'm Yours" – Jason Mraz
"You're The Inspiration" – Chicago
"Baby I Love Your Way" – Peter Frampton
"Perfect" – Ed Sheeran
"I Don't Want To Miss A Thing" – Aerosmith
"Wonderful Tonight" – Eric Clapton
"Power Of Love" – Jennifer Rush
"Only Wanna Be With You" – Hootie & The Blowfish
"Iris" – Goo Goo Dolls
Wedding DJ Mesa, Arizona by All Pro DJs
All Pro DJ's offers DJ services in Mesa, Arizona and surrounding areas. Contact All Pro DJs for all your wedding and corporate events. Call us at 602-292-2870 for more information. We also offer photo boths to keep those event memories forever.